Automatic gates
Inhouse Systems first started installing automatic gates in 1990, when we became the local agents for Magic Button and Liftmaster.
Since then we have project managed, installed, automated, repaired, and renovated hundreds and hundreds of automatic gate installations. We know what works and what doesn't. When you contract Inhouse Systems, you get that experience.
We know when to reinforce something and when something should have a drain. We know what equipment will last over 10 years and which brands won't last two.
We do the work ourselves. We don't just sub-contact it all out and hope for the best.
We have extensive examples for you to choose from (over 500), or let us help design a gate that is unique. Gates available to order in steel, aluminium, and timber.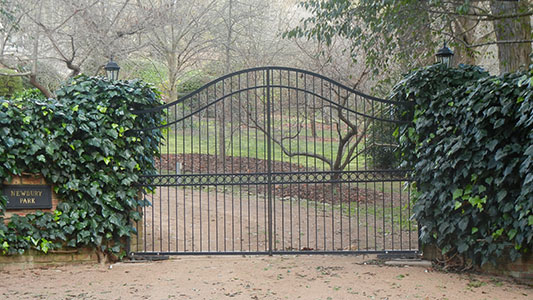 Total turn key service, footings, columns, gates, automation and electronics. We will even do driveways and fences to match.
Integration with telephone, closed-circuit television (CCTV), security and automation systems. In fact, we can make it so that you can receive a call, open, close and view your gates from anywhere in the world (or from your lounge room).
All the extras such as keypads, intercom, ground loops, CCTV, lighting etc.
We have access to the best brands, these include:
AIPHONE
AirKey
BFT
FAAC
Fadini
Liftmaster
Nortech
Prastel